Requesting An Insurance Quote FAQs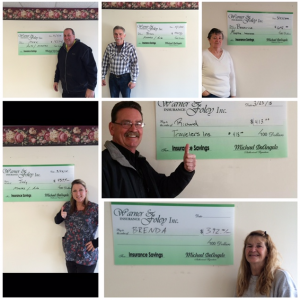 You may have seen some recent photos of clients who came in for their  "Annual Insurance Review" and ended up saving a good amount of money.
We realized you might have some questions about the "review process" so we prepared this collection of FAQs
1) How long does the quote process take... do I have to come in?
If you have all the paperwork on-hand it can be as little as 15-20 minutes.  It can be done entirely over the phone or even via email.  518-674-1110 or Email
2) If I get a quote from you am I under any obligation to buy it?
Absolutely not.
3) Are there any costs associated with getting an insurance quote from you.
No.  Some agencies do charge a fee but we do not.
4) I got a great quote from you and would like to switch but my current coverage doesn't expire for another X months.
There is no penalty for cancelling a current policy if you have a new one in place and in fact, that is something we can take care of for you.
5) I've paid for my current policy in full.  If I switch to you do I lose that money?
You do not.  You will get a pro-rata refund from your previous insurance company.
6) What do you need from me to give me a quote.
For an auto quote we'd need you to have:
A copy of your current policy. We can go over it on the phone or you can email or fax it to us.
If you don't have the policy handy we'd need your name, address, date of birth, license #, SS# is optional, year, make model and VIN# of the vehicle and your desired coverage limits
For a motorcycle or ATV quote - Year, Make, Model, VIN #, CC Size
For boats - Year, Make, Model, Length, Hull ID#, Material the hull is made from (fiberglass, wood, etc.), Horsepower
For homeowners - Copy of current policy if you have one.  The address.  Year built, square footage, date of updates to the roof, heating system, plumbing & electric.   Deductible and liability amounts and current coverage if you have it, if not we'll work it out.
7) Why is your rate so much lower?
This is a complex question.
First of all the companies we represent are rated very highly by A.M. Best, the recognized leader in insurance company ratings.  So a low premium does not mean you're dealing with a poor insurance company.
Second, a low rate from a company has several parts...
1)A good year.  Companies derive their rates based upon how they do in a certain geographical area.   An insurance company may have had a low number of claims in the previous year and/or an influx of new customers in your area.  This spreads out their risk and lowers the rates.
2)They may want to expand their client based in a certain part of the country.
This is also the reason it's a good idea to have an "Annual Insurance Review".  A bad year for your company might mean higher rates for that company but not others.  It never hurts to check and there is no cost or obligation to switch.
8) What happens if I sign up for a new auto policy with you but before we've had a chance to cancel my other policy, a meteor destroys my car in your parking lot.  Am I getting two new cars?
The primary policy would cover it because coverage would be bound and even though the cancellation was signed, it had not been processed yet.
Definitely put the claim thorough the other agent!
And buy a lottery ticket because long shots are coming up for you that day!
We hope this answers all your questions but if not, please feel free to call or email...
518.674-1110 or Email